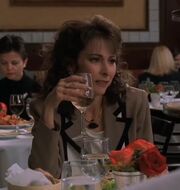 Angie Bonpensiero
is the wife of late
Sal "Big Pussy" Bonpensiero
. She is played by
Toni Kalem
. She was also played by an uncredited actress in "
The Legend of Tennessee Moltisanti
" and "
Nobody Knows Anything
".
Angie and Sal had three children, including sons Kevin and Matt, at college age in 2000, and daughter Terri, who was married and trying to conceive with her husband in 2000. Angie was unaware of her husband's status as an FBI informant. His disappearance when he was afraid his friends were on to him and subsequent erratic behavior created problems for their relationship. When she and Pussy were having marital problems, Angie considered suicide and divorce. She discussed this with her horrified friends Gabriella Dante, Rosalie Aprile and Carmela Soprano over lunch. She also revealed that she had been unwell since Pussy's return and had been investigated for cancer. Pussy had remained indifferent to her health problems and seemed more concerned about spraying WD-40 on his pocket knife. At Carmela's urging to stay true to her Catholic faith, Angie decided to move into a separate bedroom rather than end their marriage. Later, when Pussy arrives home and silently presents flowers to Angie, she smiles for a moment but then swats him with them.
After Pussy "disappeared" for good, Angie believed that he had left her and decided to move on with her life. Tony continued to compensate Angie in her husband's absence - she used the money to buy a fancy new Cadillac but still complained to Carmela about her strained finances. As punishment, Tony damaged the car and took away her allowance. Soon, Carmela finds Angie giving out free samples at the local Pathmark and they lost contact. This likely moved Tony to forgive Angie, as he has since made her the manager of Pussy's body shop. After a long period of time without talking, she and Carmela decide to end their quarrel and go out to dinner where they both show off their new cars, with Angie showing how successful she has become running Pussy's Auto Body by buying a new Chevrolet Corvette. Shortly after the reconciliation Carmela learns that Angie is putting money out on the street via Patsy Parisi and Benny Fazio for shylocking and they are using their connections to help her with the body shop.
Appearances
Edit
Community content is available under
CC-BY-SA
unless otherwise noted.