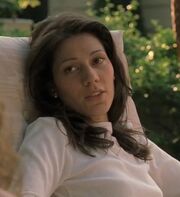 Played by: Nicole Burdette, Danielle Di Vecchio
Appears in: "Down Neck", "Guy Walks into a Psychiatrist's Office...", "The Happy Wanderer", "Funhouse", "Proshai, Livushka", "Where's Johnny?", "In Camelot", "Members Only", "Join the Club", "Mayham", "Moe N' Joe", "Walk Like a Man", "Kennedy and Heidi", "Made in America"
Barbara is the youngest child of Johnny and Livia Soprano, and sister of Tony and Janice. She is seen infrequently, usually only visiting her siblings for family functions, weddings or funerals. She lives in Brewster, New York and has two children with her husband, Tom. Barbara took part in caring for Junior Soprano as his dementia worsened.
In Season 6, after Tony's shooting by Uncle Junior, Barbara increased the level of contact with her siblings. She took part in keeping a round-the-clock vigil for Tony at the hospital and later attended family Sunday dinners at his home. In the series finale, was seen attending the wake of Janice's late husband, Bobby Baccalieri.
Community content is available under
CC-BY-SA
unless otherwise noted.