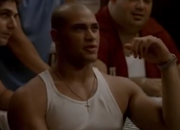 Perry Annunziata
(played by
Louis Gross
) is an associate of the DiMeo Crime Family. He is also known as "Muscles Marinara" and is from
Bloomfield, New Jersey
. He served as a bodyguard and driver for
Tony Soprano
during his recovery from a gunshot in 2006. Tony calls him Penne Arrabiata (as in the pasta dish
penne all'arrabbiata
), on account of his getting angry (Italian: arrabbiato) at a rude driver while driving
Tony
. He was first runner-up in Mr. Teenage Bloomfield and cousin of Gina Annunziata. Tony picked a fight with Perry at Satriale's to regain the respect of the family following his injury - selecting Perry specifically because of his muscular build and hot-headed nature. Perry knew the ramifications of beating up a mob boss and still tried to fight back. Tony beats him to the ground and gives him a broken nose. Tony later paid Perry off as an apology for the altercation, although Perry stated that he was in the wrong. Perry takes advice from both his father and from capo Carlo Gervasi. Perry renewed his duties by accompanying Tony to the Feast of Saint Elzear and to Christopher Moltisanti's belated bachelor party. Annunziata was driving Tony when he discovered the corpse of Fat Dom Gamiello at Satriale's, but he remained in the car.
Appearances
Edit
Community content is available under
CC-BY-SA
unless otherwise noted.