Phil Intintola is a Catholic priest. He was played by Michael Santoro in the pilot episode and Paul Schulze for the remainder of the series.
A local Catholic priest who is especially fond of Carmela Soprano. Tony feels uncomfortable always having Father Phil over since he thinks Carmela is in love with him. Carmela denies this saying she is using Father Phil as a spiritual mentor to become a better Catholic. One evening, with Tony and Meadow in Maine and AJ at a friend's house, Father Phil visits Carmela who is sick and the two share ziti and wine together. Father Phil stays the night with some awkwardness during the morning after. Tony later finds out about this and verbally taunts Father Phil several times.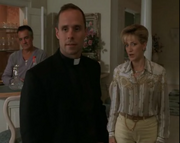 Carmela couldn't help but get jealous when she sees him with Rosalie Aprile, who feeds him a dish she prepared. She ends her close relationship with him, accusing him of manipulating her and the women in the church to get gifts and other favors. Later on, Father Phil is usually seen on the series celebrating mass (particularly funerals), at Soprano family functions, and at charity functions coordinated by Carmela. He was shown bedside, comforting Carmela when Tony was comatose. In the season 1 finale, Carmela confronts Phil after seeing him socialize with Rosalie, stating that he feeds on "spiritually thirsty women" and uses movies and food to do so.
Father Phil encourages Artie Bucco to 'unburden' himself by going to the police with his knowledge of his former schoolmates' criminal activities, but, although enraged at Tony because of Livia's revelation that he burned down Artie's restaurant, Artie eventually backs out. Given Tony's hot temper and views on loyalty, it is not clear whether either the chef or priest would have survived if Artie had gone to the cops.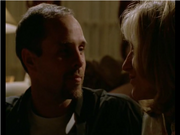 Community content is available under
CC-BY-SA
unless otherwise noted.